Artificial Intelligence Infinite Film (AI-IF) Project
2017-
The project lead team: Xu Bing, Feng Yan, Zhang Wenchao, Sun Shining
Medium: Artificial intelligence generated film with variable duration
Time length:variable duration
Exhibition:The 5th Pingyao Crouching Tiger Hidden Dragon International Film Festival, 2021. Museum of Art Pudong, 2021-2022.
This project works closely with artificial intelligence scientists to develop a real-time feature film production artificial intelligence system with no human production personnel (directors, screenwriters, photographers, or actors, etc.). The audience can input the movie type (such as science fiction, crime, love, etc.) according to their needs. The audience can also change the narrative plot or style of the movie by entering keywords or sentences and making a never-repeated movie produced by AI. This project aims to pursue an element that natural persons cannot create but is also in demand and not found in traditional film. Its concept is based on the shortcomings of natural persons, such as prejudice in the judgment of problems due to a narrow sense of emotions, greed and evil thoughts driven by political and economic interests, restrictions because of the limitation of knowledge and vision. AI suggests the "internal structure" of human life by accumulating various human image materials from a calm standpoint. This project is an experiment of the future possibility of AI film.
Use the following link to watch the trailer: https://vimeo.com/823196158?share=copy
Book From the Ground
Book From the Ground Design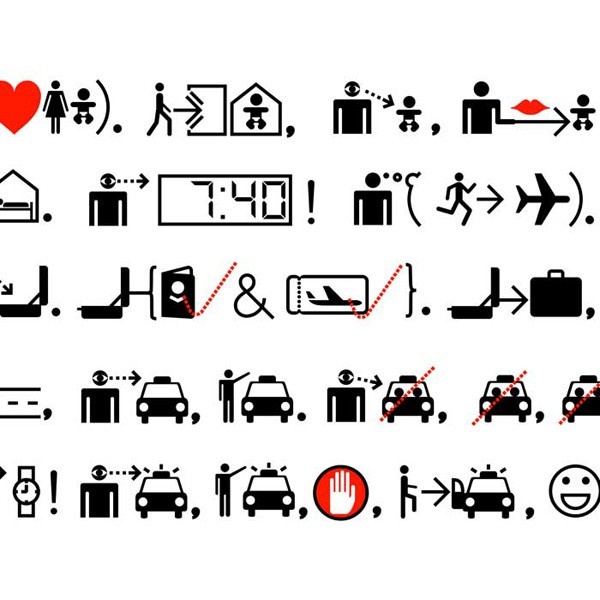 Book From the Ground Design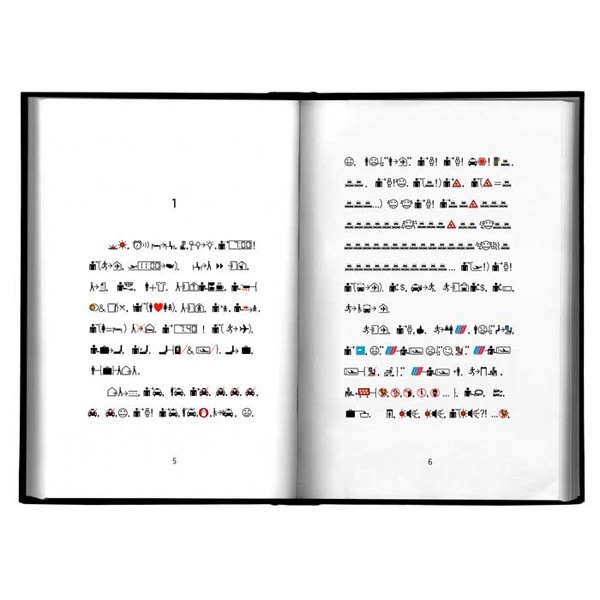 Book From the Ground Design
Book From the Ground: From Point to Point
Book From the Ground Software
Installation view at Xu Bing: Book from the Sky to Book from the Ground, Eslite Gallery, Taipei, 2012
2003—ongoing
Xu Bing has been undertaking his Book from the Ground project since 2003. The artist first compiled symbols drawn from the public sphere and wrote a book using only these signs. The book is written in a way that any reader, regardless of his or her cultural or educational background, can understand. As long as one lives within the contemporary society, he or she will be able to interpret the book. Due to the universality of its visual language, it could be published anywhere without translation. For the Book from the Ground installation, Xu Bing recreated his studio's working environment and brought some materials to the exhibition space, implying that this is a never-ending project in progress. Xu Bing's studio also made a character database software that corresponds to the language of the book. Users can enter words either in English or in Chinese, and the program will translate them into Xu Bing's lexicon of signs. It thus serves as an intermediary form of communication and exchange between the two languages. As personal computer and the internet become increasingly integrated into daily life, the lexicon of digital icons grows accordingly, and the symbolic language of Book from the Ground has been further updated, augmented, and complicated. In response to his own Book from the Sky, a work dated 30 years earlier whose language is illegible to anyone, Book from the Ground is legible to all. It is an expression of Xu Bing's long-standing vision of a universal language.
Book From the Ground: From Point to Point can be purchased from various bookstores and websites.
Series
The Character of Characters
Installation view at Out of Character: Decoding Chinese Calligraphy, Asian Art Museum, San Francisco, USA, 2012
Instalation view of The Character of Characters at MASS MoCA (North Adams, MA, USA), 2012
Draft for The Character of Characters, MASS MoCA, 2012
Draft for The Character of Characters, MASS MoCA, 2012
Instalation view at Things Are Not What They First Appear, SCAD Museum of Art Savannah (Savannah, GA, USA)
2012: 17'
2012, 2015: 15'
Materials: seventeen-minute animated film
This animation is conceived as a study and imagination of a calligraphy masterpiece by Zhao Mengfu (1254-1322) in the collection of Yahoo's founder, Mr. Zhiyuan Yang. Through the medium of widescreen animation, The Character of Characters describes the source of the unique character of Chinese people. Everyone in China who has received basic education must, over the course of years, commit to memorize and then write and re-write thousands of characters, each character a drawing. This is the way things have been done over thousands of years in the Chinese history, so this must have had some influence on the formation of the character of Chinese people. It implies the way that Chinese people see and approach things, and why China is the way it is today – developing at this breakneck speed but not in line with the Western value system.
Chinese people's worldviews and concepts of freedom; the consequences of Chinese people's flexibility, collectivism, face-saving mentality, moral stance that demands focus on communal interests, and worship of symbols and big names; the ability of Chinese culture to digest other cultures, and the Chinese culture of copying ("shanzhai"). All of these special characteristics could be said to have a deep connection to the Chinese way of writing characters. This animation seeks to reveal the relation between Chinese writing and cultural characteristics, the core and energy of Chinese culture, and its advantages and disadvantages for people to continue to build new modes of human civilization.
Supported by The Robert H. N. Ho Family Foundation.
Nokia: Connect to Art
2006
Medium: Digital Video

Three 30 second video art pieces created for the Nokia Connect to Art project.

Computer technology has made possible images of incomparable beauty, yet I prefer the hand-drawn quality that cartoons of my childhood possess.

There is a rule regarding "art": only creation without function can be considered art. But I really like the Connect to Art project, because the work has utility. The works will be as portable as the devices they are on; the art will permeate a limitless space. And every time we interact with technology, exchange takes place on the level of the soul.

Work Descriptions.

Flight: Birds don't like that we have used this mark to represent them.

Growth: Chinese is fascinating in that drawing, painting and writing can be one and the same.

Return: Birds don't have an opportunity to refuse their human explanation.