Tobacco Project III: Tobacco Book (2011)
Tobacco Project III: Tobacco Book (2011)
Tobacco Project III: Tobacco Book (2011)
Tobacco Project III: Tobacco Book (2011)
2011
Medium: Tobacco leaves, paper, cardboard, rubber-stamped with passge from A True Discourse on the Present State of Virginia by Ralph Hamor (1615)
Dimensions: 53 3/4 x 39 3/4 x 3 7/8 in
Exhibition: Tobacco Project 3, Virginia Museum of Fine Arts, Richmond, Virginia, USA, 2011
Tobacco Project III: Puff Choice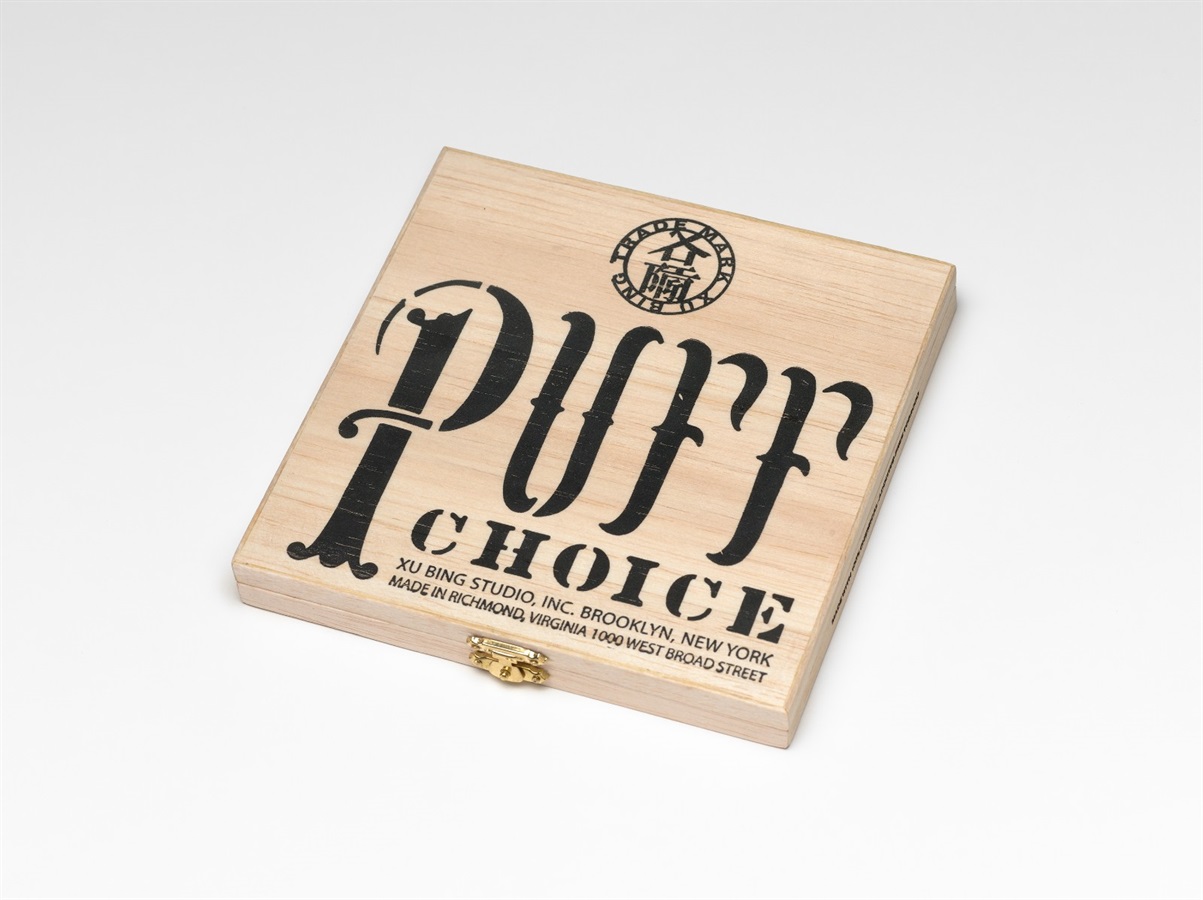 Tobacco Project III: Puff Choice
Tobacco Project III: Puff Choice
Trade Cards for Tobacco Project III: Puff Choice
2011
Medium: Hinged wooden box with rubber-stamp printing, double cigarettes, foil, and five trade cards by Xu Bing
Size: Box (closed): 7/8 x 7 9/16 x 7 3/16 in
Exhibition: Tobacco Project 3, Virginia Museum of Fine Arts, Richmond, Virginia, USA, 2011
Tobacco Project III: Match Flower (2011)
2011
Medium: Branches, red match-head paste, vase
Size: Approx. 60 in
Exhibition: Tobacco Project 3, Virginia Museum of Fine Arts, Richmond, Virginia, USA, 2011
Tobacco Project III: Light as Smoke
2011
Medium: 440-lb. compressed block of tobacco with raised text: Light as Smoke
Size: 24 x 43 x 26 in
Exhibition: Tobacco Project 3, Virginia Museum of Fine Arts, Richmond, Virginia, USA, 2011
Tobacco Project III: Backbone
Tobacco Project III: Backbone
Tobacco Project III: Backbone
Tobacco Project III: Backbone
Tobacco Project III: Backbone
2011

Medium: Bound book, printed in offset lithography on cigarette paper
Size: 11 1⁄2 x 13 in, 158 pages
Exhibition: Tobacco Project 3, Virginia Museum of Fine Arts, Richmond, Virginia, USA, 2011
Tobacco Project III: 1st Class
Tobacco Project III: 1st Class
Tobacco Project III: 1st Class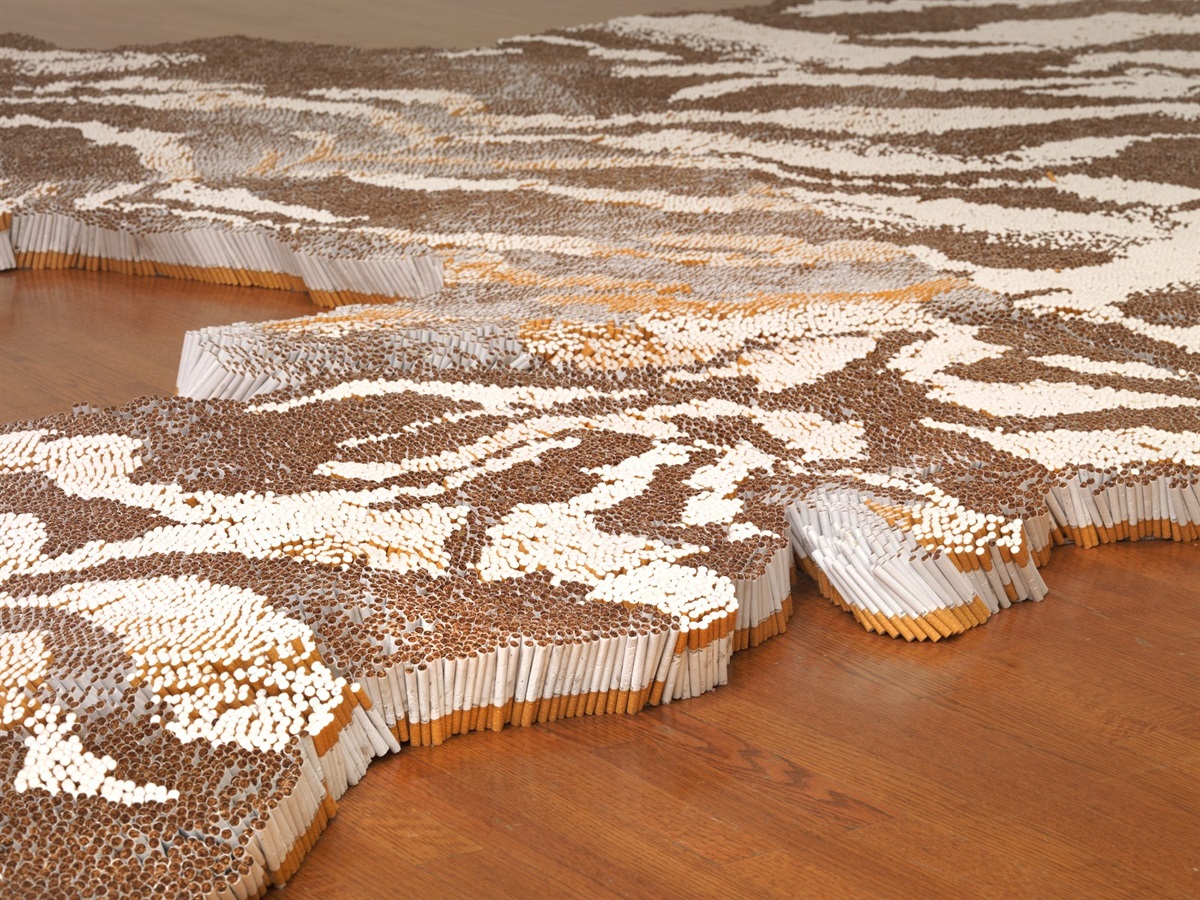 Detail of Tobacco Project III: 1st Class
Detail of Tobacco Project III: 1st Class
2011
Medium: 500,000 "1st Class" brand cigarettes, adhesive, carpet
Size: Approx 480 x 180 in
Exhibition: Tobacco Project 3, Virginia Museum of Fine Arts, Richmond, Virginia, USA, 2011
Background Story 7
Background Story 7,London,2011
Background Story 7,London,2011
Background Story 7,London,2011
Background Story 7,London,2011
Background Story 7,London,2011
Background Story 7,London,2011
Background Story 7,London,2011
2011
Materials: Natural debris attached to frosted glass panel, 430 x 200 cm
Location: British Museum, London, United Kingdom
Tobacco Project III: Richmond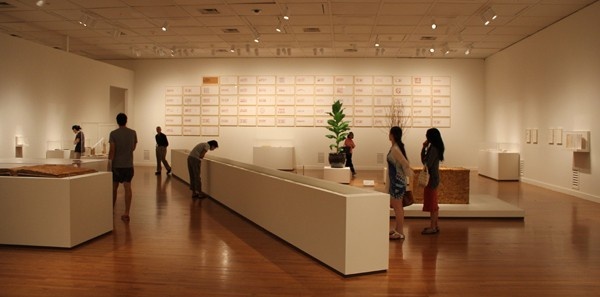 Installation view
Installation view
Tobacco Book
Reel Book
Front: Light as Smoke; Middle: Match Flowers; Back: Backbone
Light as Smoke
Match Flowers
Match Flowers
Backbone
1st Class
1st Class
1st Class
2011
Location: Virginia Museum of Fine Arts, Richmond, Virginia, USA
Medium: Mixed media installation/ Tobacco leaves, live tobacco plants, various tobacco related materials
As an extension of the ongoing Tobacco Project series, which explores the long and entangled relationship between humans and tobacco, Xu Bing embarked on a site-specific endeavor.
After executing the project in Durham (2000) and Shanghai (2004), Xu Bing chose Richmond, Virginia as the next significant city associated with tobacco. Richmond is home to Philip Morris, the parent company of the famous Marlboro cigarette brand. During his residency, Xu Bing studied tobacco's intimate relationship with the American continent, as well as its historical ties to early immigrants. In addition to Tobacco Book, Traveling Down the River, 1st Class (another "tiger-skin carpet" composed of over 500,000 "first class" brand cigarettes), and various works created during the initial phases of the Tobacco Project, Xu Bing expanded his art project on tobacco to include print works. These works raise profound questions about history and reality, global capital, cultural immersion, and labor market.
Selected work description:
Backbone, 2011

It is a book composed of early tobacco brand designs that Xu Bing collected in Virginia. He then asked his friend Rene Balcer, a writer, director, and filmmaker, to write a blues poem incorporating tobacco brand slogans. It is titled Backbone after an early brand of tobacco.
Living Word 3
Installation view at Xu Bing: The Living Word,The Morgan Library & Museum, New York, 2011
Installation view at Xu Bing: The Living Word,The Morgan Library & Museum, New York, 2011
Installation view at Xu Bing: The Living Word,The Morgan Library & Museum, New York, 2011
Installation view at Xu Bing: The Living Word, The Morgan Library & Museum, New York, 2011
Installation view at Xu Bing: The Living Word, The Morgan Library & Museum, New York, 2011
Installation view at Xu Bing: The Living Word, The Morgan Library & Museum, New York, 2011
Work in progress, The Morgan Library & Museum, New York, 2011
Xu Bing at the exhibit, The Morgan Library & Museum, New York, 2011
2011
Materials: Cut and painted acrylic
Location: The Morgan Library & Museum, New York, USA