Forest Project
The Forest Project is an experiment of creating a self-sustaining system that will move funds from wealthy areas to impoverished areas for planting trees. Its feasibility is based on the following principles: firstly, leveraging free online services such as auction and sales hosting, money transfers, and even online teaching to minimize costs; secondly, ensuring benefits for all participants in the project; thirdly, leveraging regional economic discrepancies (for example, the cost of a subway ride in New York, which is $2.50, can plant ten trees in Kenya).
Series
Wu Street
Wu Street
Wu Street
Wu Street
Wu Street
Wu Street
Wu Street
Installation View of Wu Street at the Solomon R. Guggenheim Museum, New York, 2017
1993
Medium: media/found oil paintings, falsified magazine article

The title of this work refers to the Chinese name of a Manhattan street located on the Lower East Side. On this street, the artist salvaged a group of non-representational oil paintings from the garbage, providing the catalyst for this conceptual piece.
''Wu'' in Chinese has various meanings, including both ''misunderstanding'' and ''enlightenment'' in the Chan (Zen) sense. This dichotomy between understanding and misunderstanding is integral to Wu Street. Xu paired the salvaged paintings with an article written by a critic interpreting the abstract paintings of the renowned artist Jonathan Lasker. Xu's intention was to demonstrate that the critic's interpretation of Lasker's works could just as well be applied to the salvaged works. As a next step, Xu replaced real names and art works with false names and illustrations of the discovered paintings. Xu then engaged a professional translator to translate the modified text into Chinese, making it even more incomprehensible. Subsequently, he published the falsified, translated article in a prestigious Chinese art magazine under the pseudonym of Jason Jones. On the surface, Wu Street appears to be no more than an elaborate practical joke, yet it poses serious questions concerning the contemporary art system, the arbitrary nature of critical language, and the basis for assessing the value of art.
Ghosts Pounding the Wall
Installation view
Installation view
Installation view
Installation view
Work in progress, Wisconsin, USA, 1991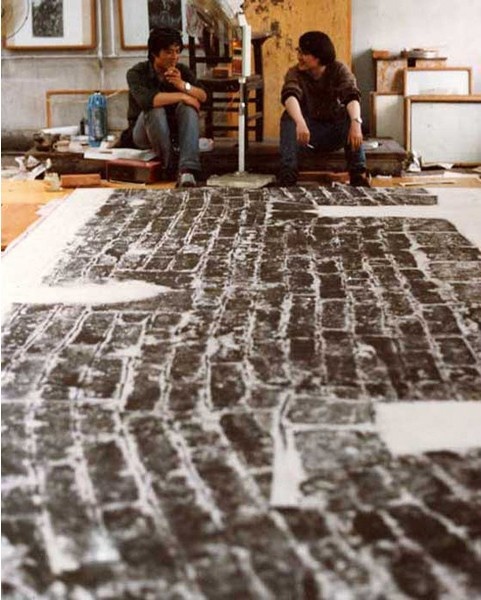 Work in progress, Wisconsin, USA, 1991
Work in progress, Beijing, 1990
Work in progress, Beijing, 1990
Work in progress, Beijing, 1990
1990-1991
Medium: Mixed media installation/ ink rubbings on paper with stones and soil
Dimensions: Central part approx. 31 (L) x 6 (W) m; Side part approx. 13 (H) x 14 (W) m each
In 1990, Xu Bing decided to realize his longstanding vision: to create rubbings of a monumental natural object. It was during this time that he concieved the notio that any textured object could be transferred onto a two-dimensional surface as a print. After much preparation, in May, Xu Bing, friends, students, and local residents set off for the Jinshanling section of the Great Wall. They dedicated slightly less than a month making rubbings of three sides of a beacon tower and a portion of the wall itself. This was the last major artwork that the artist started before reloacting to the United States later that year. The artwork was subsequently exhibited for the first time in the United States, where Xu Bing noted that "Those American printers were shocked by the piece's size." The fact that the work emerged during a period of transition gives it an additional layer of meaning to its significance.
The title Ghost Pounding the Wall is translated from the Chinese aphorism "Gui Da Qiang," which can be interpreted as "a wall built by ghosts." This phrase carries the meaning to be stuck in one's own thinking, refering to a story of a man trapped behind walls built by ghosts. Viewers of Book from the Sky used this epithet to express their inability to comprehend the work. Xu Bing embraced his criticism and appropriated it as the title for his new work—employing a clever play on words where the term "build" can also mean "pound" in Chinese.
A Consideration of Golden Apples
2002
Material: Apples

This work was created as part of an exhibition held in Beijing on the day before China's National Day celebrations in October 2002. The event was partially sponsored by Qixia municipality in Shandong province, an area famous for apple cultivation, thus inspiring Xu Bing to make apples the central element of the piece.

The artist used the majority of his materials budget to purchase three tons of apples to be distributed to the working people of Beijing as National Day gifts. Three large trucks, festooned with banners reading ''Golden Apples Send Warm Greetings'' and ''Best Wishes to the Workers of the Capital on National Day,'' traveled through several working-class areas of Beijing and distributed free apples to the people. A television broadcast van followed the action, broadcasting it live onto ten large television sets installed at various points in the exhibition venue. Interspersed throughout this live broadcast were segments taken from old propaganda films of Chairman Mao distributing mangos as gifts to workers in Beijing.


In this work, the artist appropriates the concept of ''socialist consideration'' or ''compassion'' (shehui juyi wenqing) embedded in the collective memory of a whole generation of Chinese for the purposes of artistic expression.