Square Word Calligraphy Classroom
1994-1996
Materials: Mixed-media installation; instructional video, model books, copybooks, ink, brushes, brush stands, blackboard
The intention of this installation is to simulate a classroom-like setting modeled on adult literacy classes, in a gallery or museum space. Desks are arranged with small containers of ink, brushes and a copybook with instructions on the basic principles of ''New English Calligraphy,'' a writing system invented and designed by the artist. A video titled ''Elementary Square Word Calligraphy Instruction,' is played on a monitor in the exhibition space, capturing the audiences' attention and inviting them to participate in the class. Once they are seated at the desks, the audience is instructed to take up their brushes and the lesson in New English Calligraphy begins.


Essentially, New English Calligraphy is a fusion of written English and written Chinese. The letters of an English word are slightly altered and arranged in a square word format so that the word takes on the ostensible form of a Chinese character, yet remains legible to the English reader. As people attempt to recognize and write these words, some of the thinking patterns that have been ingrained in them since they learned to read are challenged. It is the artist's belief that people must have their routine thinking attacked in this way. While undergoing this process of estrangement and re-familiarization with one's written language, the audience is reminded that the sensation of distance between other systems of language and one's own is largely self-induced.


An introduction to Square Word Calligraphy
An Introduction to Square Word Calligraphy: text book and tracing book
Inside An Introduction to Square Word Calligraphy textbook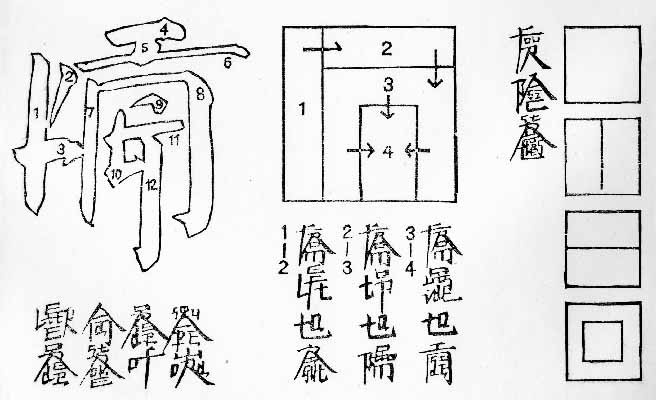 Inside An Introduction to Square Word Calligraphy
Woodblock type plate for An Introduction to Square Word Calligraphy, 1994-96
Xu Bing carving plates for An Introduction to Square Word Calligraphy
Work in progress
Stone cut type block for An Introduction to Square Word Calligraphy
1994-1996
Materials: woodblock hand-printed book and ink rubbing with wood cover; water-based ink on grass paper
Dimension: approx. 39 x 23 x 2.7 cm (closed)
For the Square Word Calligraphy Classroom, Xu Bing produced textbooks, a instructional videotape, and traditional tracing books. Visitors arriving at the exhibition site entered a place of learning. Both ethnic Chinese and Westerners, when confronted with this "Oriental calligraphy for English culture," had a special experience like none other before.