Xu Bing: Thought and Method | Museum MACAN, Jakarta
Jakarta, Indonesia (August 29, 2019) — The large-scale retrospective Xu Bing: Thought and Method is officially open at the Museum of Modern and Contemporary Art in Nusantara (Museum MACAN). At the press conference in the afternoon, Aaron Seeto, Director of Museum MACAN, Philip Tinari, Director of UCCA Center for Contemporary Art, and Xu Bing expressed their wishes and high expectations for the touring exhibition. Later that evening, Haryanto Adikoeseomo, Founder of Museum MACAN and its foundation, and Fenessa Adikoeseomo, the Chairwoman of Museum MACAN Foundation delivered an opening speech together. Drs. Restu Gunawan, Director of Arts, Ministry of Education and Culture of Indonesia also addressed the exhibition. Other guests include Gary Francis Quinlan, Australian Ambassador to Indonesia, Budi Tek, founder of the Yuz Foudation, and many other curators, directors, collectors and artists from all around the world.
Exhibition Opening Photographer: Lu Ye. All images © Xu Bing Studio
From left to right: Aaron Seeto, Xu Bing, Restu Gunawan, Haryanto Adikoeseomo
Aaron Seeto said: "Xu Bing is truly an 'international' artist. By reflecting on the process of cultural exchange in the era of transnational communication, his creative practice explores the depth of history. The exhibition includes many of Xu Bing's most important works, defining our understanding of technology, language and global culture in the late 20th and early 21st centuries from a cultural perspective. We are very happy to present Xu Bing's work to the Indonesian audience for the first time. We believe that this exhibition will evoke wide resonance among the audience."
From left to right: Aaron Seeto, Philip Tinari, Xu Bing
Xu Bing states: "A good artist must also be a good thinker. If you only have good ideas or philosophical concepts, you may become a philosopher, but it may not be enough to be included in the history of art. Therefore, an artist must use a special way to express their ideas using an unconventional cultural concept. Take Square Word Calligraphy, something I invented, as an example. The characters look like Chinese, but they are actually English and have nothing to do with Chinese. My real interest is to provide a new thinking perspective through my works and to change people's way of thinking. In the face of such new calligraphy, our existing knowledge system doesn't work. We must find a new anchor point, a new concept, and retrieve the origin of thoughts and cognition."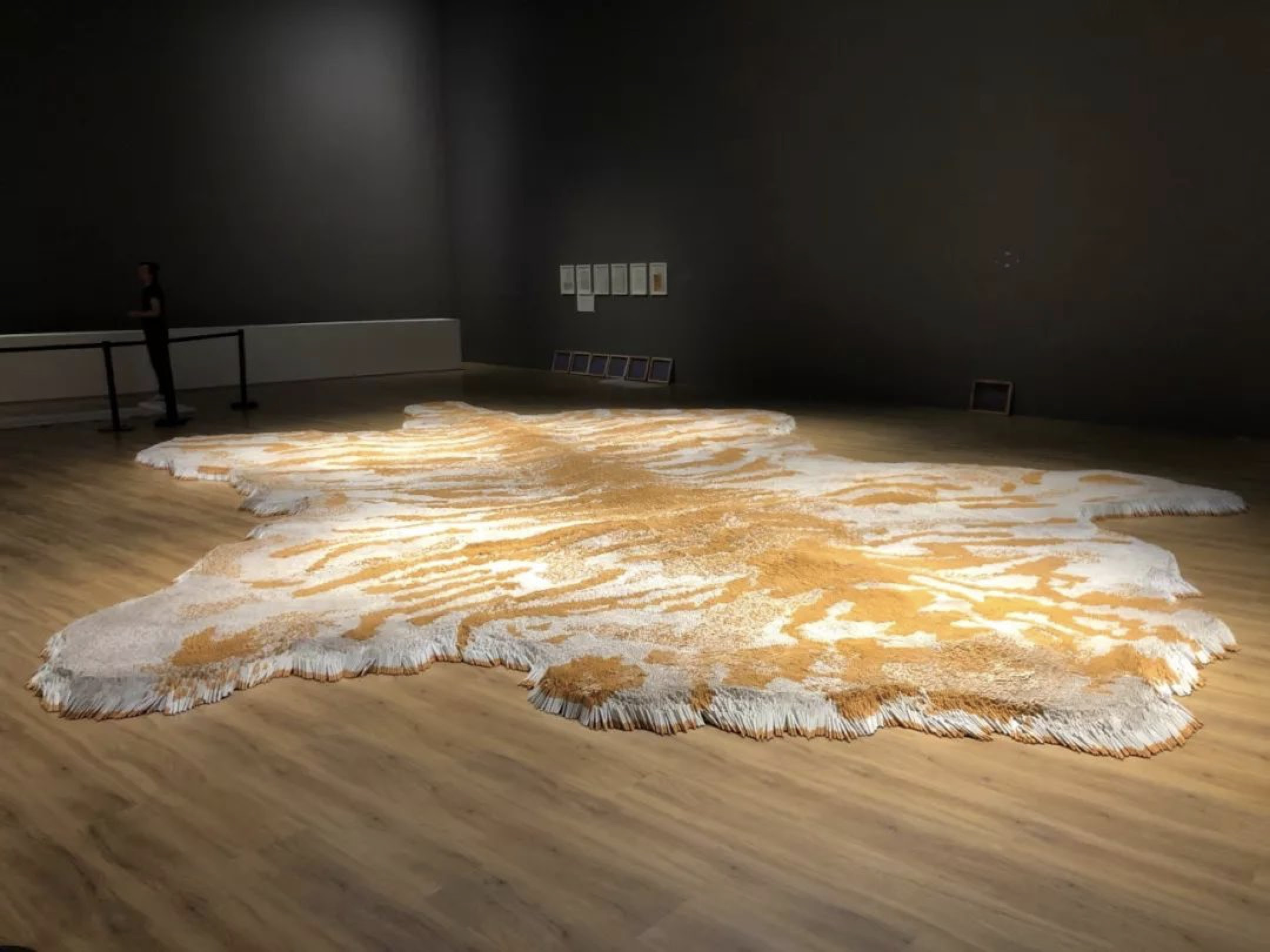 Tobacco Project — Honor and Splendor
Book from the Sky
Square Word Calligraphy Classroom
Following the first iteration at UCCA Center for Contemporary Art in Beijing last October, Xu Bing: Thought and Method"will be the most comprehensive retrospective of Xu Bing in Southeast Asia, and his first major solo exhibition in Indonesia. The exhibition will exhibit more than 60 works including paintings, prints, installations, videos, documentaries and archives spanning 4 decades of Xu Bing's artistic career.
The title of the exhibition, Thought and Method, signals a systematic overview of Xu Bing's works, methodology, and motivation for his nonstop artistic inquiry. This retrospective exhibition marks key turning points in the artist's career. It firstly examines the implications of and reflections on the written language and linguistic logic of certain works such as Book from the Sky (1987-1991) and Background Story (2004-present). In the meantime, A Case Study of Transference (1993-1994) and Square Word Calligraphy (1994-present) explore the concepts of mixed species, differences and cross-language practices. The exhibition will also present Xu Bing's ongoing series like Tobacco Project (1999-present), Book from the Ground (2003-present), and his first feature-length film Dragonfly Eyes (2017), demonstrating his research in economical and regional political changes.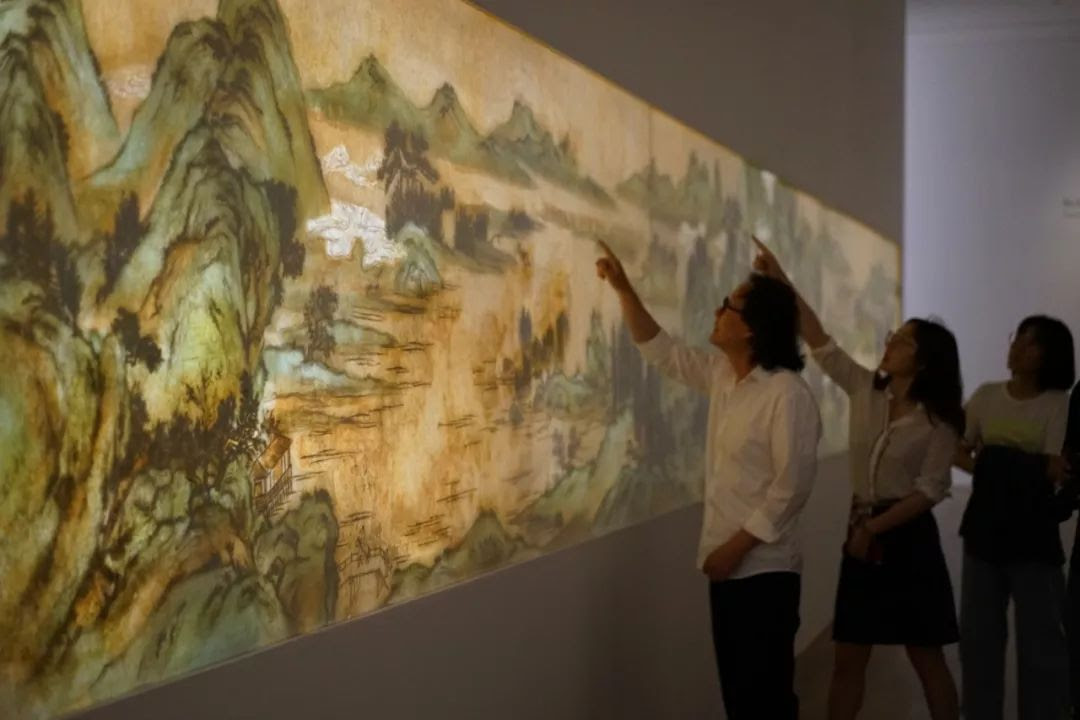 Background Story
Book from the Ground — Pop-up Book
During the Cultural Revolution in the 1970s, Xu Bing was assigned to go to the mountainous area of Beijing to assist local farmers, just like other youths at that time. His artistic creation gradually transformed from traditional art and woodblock printmaking to something more conceptual, which laid the foundation for his later artistic career. In the early 1990s, Xu Bing moved to New York and began to integrate traditional Chinese elements into Western art. Since the beginning of the millennium, he has turned to issues of globalization, surveillance and industries. After returning to China in 2007, the rapid development of his home country and the encouragement of experiments and innovations have inspired him to create a series of new works, including Dragonfly Eyes, a film made from surveillance camera footage that reflects on the nature of performance and reality.
American Silkworm Series – VCR
Dragonfly Eyes installation
Xu Bing's artistic creation follow a number of different clues that are inter-connected. From his early research topics like culture, language and traditional knowledge systems, to cross-cultural and global issues that the artist started to show great concern about in the 1990s after he moved to New York, then to the artist's latest exploration in social phenomena of this century, Xu Bing has always focused on finding novel artistic vocabulary to respond to new problems. His concept of creation is rigorous while his experiments in materials and media are diverse, both traditional and new. His artistic expression is clear and precise, reflecting the globalization era in which we are living. Not only are his works pioneering and highly recognizable in the field of international contemporary art, but he is also a giant in the contemporary art scene in China.
Xu Bing: Thought and Method will be on view at Museum MACAN from 31 Aug 2019 – 12 Jan 2020. It is a collaboration between Museum MACAN and Ullence Center for Contemporary Art, Beijing, China. Please visit www.museummacan.org for more information.
About Museum MACAN
Museum MACAN is an art museum located in Jakarta, Indonesia. It aims to provide a platform for the public to access important works from Indonesia and around the world, as well as continue to expand its collection. The museum has 7,100 square feet of space including education and preservation space. The museum actively plans exhibitions and events throughout the year.