Series of Repetition at the Reopened MoMA
Series of Repetition
Series of Repetition-Black Tadpoles
Series of Repetition-Haystack Reflection
Series of Repetition-Moving Cloud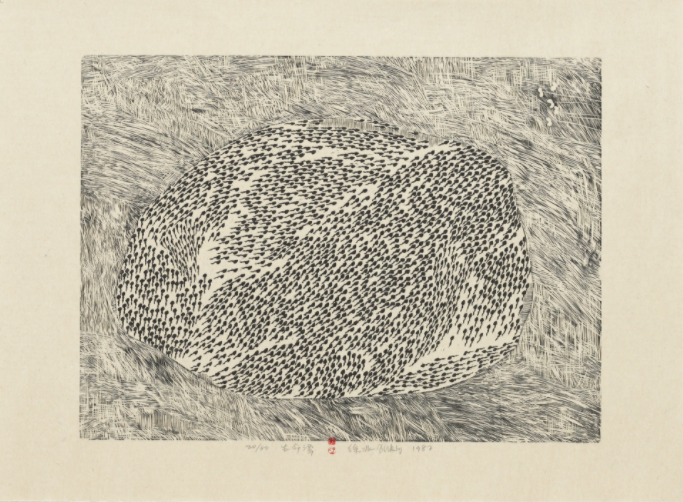 Series of Repetition-Life Pond
Series of Repetition-A Big River
Series of Repetition-A Mountain Place
Series of Repetition-Black Pond
Series of Repetition-Field
Series of Repetition-Cropland
Series of Repetition-Dry Pond
Opening Date: October 21, 2019
Location: MoMA, New York
Exhibited Work: Series of Repetition
The Museum of Modern Art in New York reopened its doors on October 21, 2019, unveiling the result of its four-month extensive renovation to the public. The expansion allows the museum to polish their new narrative of modern art, unearthing a variety of artists from their significant collection. Xu Bing's Series of Repetition, a series of 10 prints, is exhibited on the second floor along with other works by Chinese contemporary artists, as part of MoMA's newly curated permanent collection show.
Created in 1987-88, Series of Repetition marks the early years of Xu Bing's artistic practice in printmaking and anticipates his decisive turn towards conceptual art afterwards. The set of woodcut prints depicts rural scenes, recalling Xu Bing's experience in the countryside before entering the Central Academy of Fine Arts in Beijing.
This set of prints was selected from experiments and studies for Xu Bing's Series of Repetitions (1987-88), an experiment in exploring the artistic qualities that make printmaking unique. He began by printing an uncut block of wood and continued making a sequence of prints as he carved the block, recording the corollary additions and deletions on the printed page, until the image was entirely effaced. The entire mark-making process was transferred onto a ten-meter-long stretch of bark paper. The image thus transitions from a formless solid block of black, and through a complicated process arrives at a formless solid block of white, a gesture with a strong Zen Buddhist implication. By doing so, Xu Bing ventured into unchartered territory, pushing the boundaries of printmarking.
Background Story: Landscape after Huang Gongwang
Duration: September 6, 2019 — December 6, 2019

Location: Suzhou Museum
Exhibited Work: Background Story: Landscape after Huang Gongwang
In the central hall of Suzhou Museum, Xu Bing's Background Story: Landscape after Huang Gongwang was given a brand-new look. Visitors can tell the uniqueness of the "two-dimensional" landscape painting by the dead branch from its side. The back of the "painting" is an accumulation of various wastes. Under the magic of light, they formed an ideal landscape in front. Furthermore, the three-dimensional painting is a painted screen itself, echoing the outdoor landscape garden. In studying the work, one encounters another world.
Background Story is the first and the last piece of work visitors would see in the exhibition. The work provokes contemplation on and encourages discussion of the themes of illusion and reality, internal and external, ancient and modern. The Painted Screen Past and Future is curated by Wu Hung, a well-known art historian and curator of the University of Chicago. The exhibition is held in both the temporary exhibition hall of the Suzhou Museum and the exhibition space in Zhong Wang's Residence. It has gathered collections from fourteen museums and artworks from nine contemporary artists including Xu Bing, Yang Fudong, Song Dong, etc. Wu Hung says, "As one who studies ancient Chinese culture, art, and history, I always want to find new angles or unique entry points to approach the ancient Chinese art, culture, architecture, and life, and this exhibition provides such a possibility. It also touches on the continuation and inheritance of our traditions from another view. It is a little surprising and a little experimental."
World Picture: Xu Bing Dragonfly Eyes
Duration: August 18, 2019 — October 24, 2019
Location: Today Art Museum, Beijing
Exhibited Work: Dragonfly Eyes (2017)

Artist Xu Bing's solo exhibition World Picture: Xu Bing Dragonfly Eyes, hosted by Today Art Museum and Xu Bing Studio, is on view at Today Art Museum, Beijing. The exhibition focuses on Xu Bing's feature-length fiction film Dragonfly Eyes, exploring the creative process and the artistic style of the movie. It also investigates the artist's artistic concepts in the past forty years and the internal relations among his art works.
Dragonfly Eyes (81 mins) is the first feature film directed by Xu Bing. The film is screen-written by Zhai Yongming and Zhang Hanyi, edited by Matthieu Laclau and Zhang Wenchao, sound supervised by Li Danfeng, and original music produced by Yoshihiro Hanno. The experimental movie has received extensive research and response in China and beyond. It continues the artist's deep criticism and reflection on social phenomena and spectacle of technology. Furthermore, it brings viewers into an ever-changing image labyrinth: it not only demonstrates that in the modern world everyone is a mirror image of each other, but also radically reveals the true nature of the world —image is the world.
The exhibition is divided into two parts. It starts with the Dragonfly Theater, which features Xu Bing's film Dragonfly Eyes and a special Q&A video where Xu Bing reveals behind-the-scenes stories. The second part, which is co-curated by guest curator Dong Bingfeng, features nine key words and some of Xu Bing's signature works in comparison with his latest work Dragonfly Eyes. The nine keywords — Plurality, Social Energy, Text and Image, Defamiliarization, Archive Fever Body, Non-form, Portrait Rights, Livestreaming and Editing — can help the audience to grasp the essence of Xu Bing's work and form a comprehensive understanding of his art creations. Dragonfly Eyes, along with Book from the Ground, Phoenix, Background Story, and others, shares the same type of artistic logic found in Xu Bing's work. They are all deeply embedded in social realities and innovate new artistic languages in today's world.
During the exhibition, the Today Art Museum and Xu Bing Studio, collaborating with different organizations and guests, will provide a number of academic conferences, lectures, and inter-disciplinary dialogues and workshops. Meanwhile, the exhibition will also publish a catalogue containing scholarly articles and image documents.
One: Xu Bing
Sktech
An Introduction to Square Word Calligraphy (Textbook)
Walt Whitman Poem Anthology
u Bing (Chinese, born 1955). Square Word Calligraphy: Crossing Brooklyn Ferry, Walt Whitman, 2018. Ink on paper, 893/8 x 4813/16 in. (227 x 124 cm).
Duration: October 25, 2019 — April 26, 2020
Location: Brooklyn Museum, New York
Exhibited Work: Square Word Calligraphy: Crossing Brooklyn Ferry, Walt Whitman (2018)

Focusing on a major new gift to our world-renowned collection of Chinese art, One: Xu Bing highlights the painting Square Word Calligraphy: Crossing Brooklyn Ferry, Walt Whitman (2018), by one of China's most important living artists. Created specifically for the Brooklyn Museum in consultation with curator Susan L. Beningson, the work celebrates Xu Bing's close relationship with Brooklyn, where he lived in the 1990s and maintains a studio today. Square Word Calligraphy: Crossing Brooklyn Ferry, Walt Whitman pays homage to Walt Whitman and is on display in 2019 in honor of the poet's 200th birthday. Whitman served as an early librarian at the Brooklyn Apprentices' Library Association (the Brooklyn Museum's predecessor), and this exhibition also includes material from our Archives that explores his relationship to the Museum. Known as the American poet of democracy, Whitman's poem "Crossing Brooklyn Ferry" portrays our interconnectedness and asks an important question: "What is then between us?"
Xu Bing developed "square word calligraphy" as a system for writing English in the early 1990s after he came to New York. Although the rectangular units of writing resemble Chinese characters, each one is actually a word in English. The overall work spells out the first section of "Crossing Brooklyn Ferry," reflecting Xu Bing's experience living between two cultures while in New York. Xu Bing has said that "If I had continued living in China, this work never would have arisen; it was a result of my living in New York. But I never would have known about Walt Whitman if I hadn't lived in Brooklyn."
One: Xu Bing is curated by Susan L. Beningson, Assistant Curator, Asian Art, Brooklyn Museum.
For more information: https://www.brooklynmuseum.org/exhibitions/xu_bing
Xu Bing: Thought and Method
Following the first iteration at UCCA Center for Contemporary Art in Beijing last October, Xu Bing: Thought and Method will be the most comprehensive retrospective of Xu Bing in Southeast Asia, and his first major solo exhibition in Indonesia. The exhibition will exhibit more than 60 works including paintings, prints, installations, videos, documentaries and archives spanning four decades of Xu Bing's artistic career.
The title of the exhibition, Thought and Method, signals a systematic overview of Xu Bing's works, methodology, and motivation for his nonstop artistic inquiry. This retrospective exhibition marks key turning points in the artist's career. It firstly examines the implications of and reflections on the written language and linguistic logic of certain works such as Book from the Sky (1987-1991) and Background Story (2004-present). On the other hand, A Case Study of Transference (1993-1994) and Square Word Calligraphy (1994-present) explore the concepts of mixed species, differences and cross-language practices. The exhibition will also present Xu Bing's ongoing series like Tobacco Project (1999-present), Book From the Ground (2003-present), and his first feature-length film Dragonfly Eyes (2017), demonstrating his research in economical and regional political changes.
Aaron Seeto said: "Xu Bing is truly an 'international' artist. By reflecting on the process of cultural exchange in the era of transnational communication, his creative practice explores the depth of history. The exhibition includes many of Xu Bing's most important works, defining our understanding of technology, language and global culture in the late 20th and early 21st centuries from a cultural perspective. We are very happy to present Xu Bing's work to the Indonesian audience for the first time. We believe that this exhibition will evoke wide resonance among the audience."
The Allure of Matter: Material Art from China
1st Class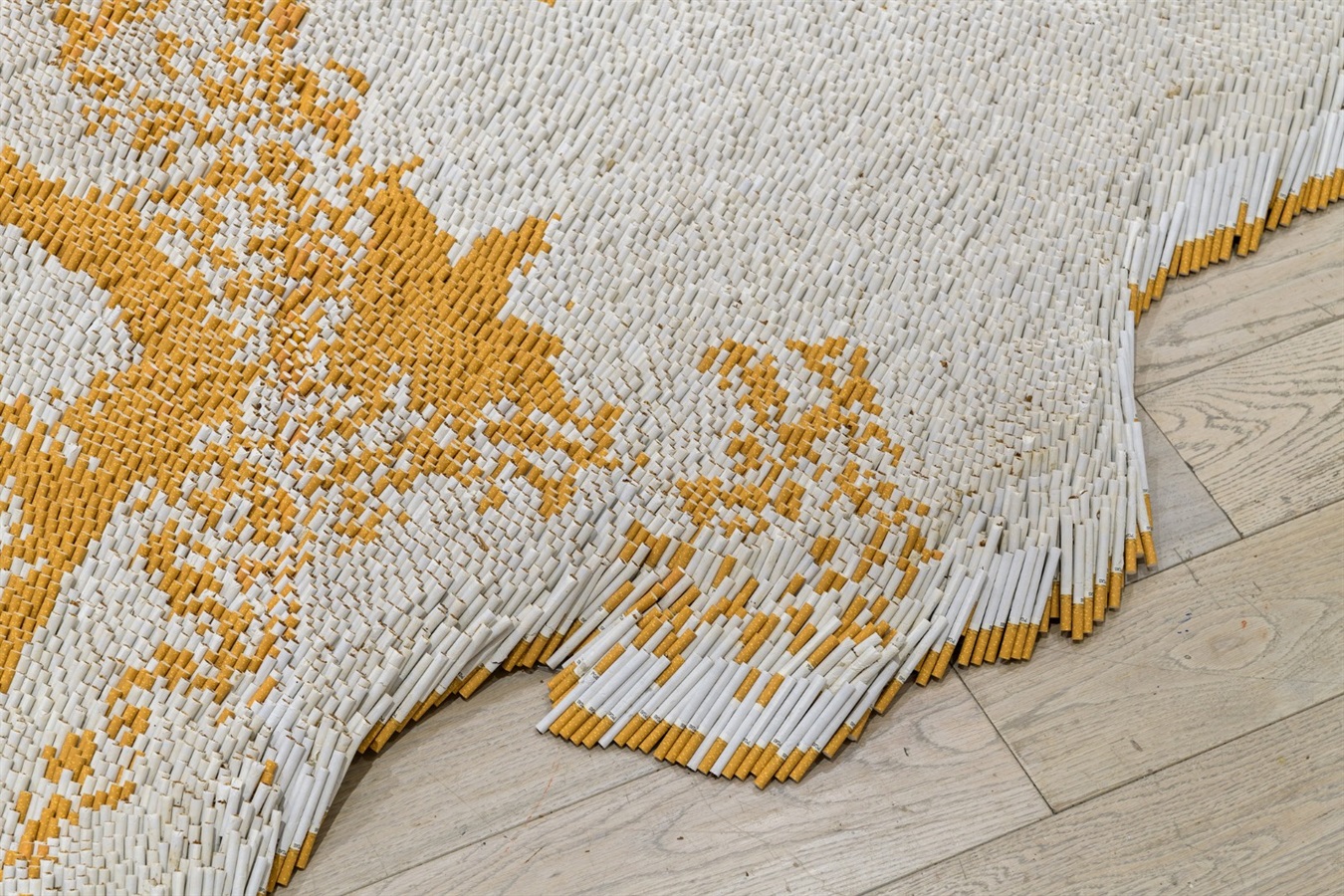 1st Class
1st Class
1st Class
Traveling Down the River
Traveling Down the River
Tobacco Book
sketches
Duration: June 2, 2019 — January 5, 2020
Location: Los Angeles County Museum of Art (LACMA), Los Angeles
Exhibited Works: Tobacco Project — 1st Class, Traveling Down the River, Tobacco Book, and sketches.
Since the 1980s, Chinese contemporary artists have cultivated intimate relationships with their materials, establishing a framework of interpretation revolving around materiality. Their media range from the commonplace to the unconventional, the natural to the synthetic, the elemental to the composite: from plastic, water, and wood to hair, gunpowder, and Coca-Cola. Artists continue to explore and develop this creative mode, with some devoting decades of their practice to experiments with a single material. The Allure of Matter coins the term "material art" to denote this trend in contemporary Chinese artmaking.
The concept of Material Art is related not only to the general term "materiality" in contemporary art, but also refers more specifically to artworks with the goal of making "matter" the primary vehicle of philosophical, political, sociological,emotional, and aesthetic expression. Some of these works reject constructed forms altogether, but most reverse or problematize the conventional relationship between medium and representation. In either case the material (and related technology) becomes the message. The conditions of contemporary Chinese art offer reasons for the prevalence of Material Art and its continuous relevance, which has been developed to fulfill two simultaneous objectives of disavowing established art forms and inventing new artistic languages.
The Allure of Matter features 35 works from 21 of the most important and influential Chinese artists working today, including Ai Weiwei, Cai Guo-Qiang, Lin Tianmiao, Song Dong, Xu Bing, Yin Xiuzhen, Zhan Wang, Zhang Huan, and more. The works are selected based on their historical importance, representativeness, and visual quality. Created from the late-1980s to the present day, the works include two-dimensional, three-dimensional, and new media works that are complementary in form, material, and visual effect.
Xu Bing's Tobacco Project, a personal and historic multi-part exploration of tobacco. Four elements of this work are featured in the exhibition: Tobacco Book (2011), Traveling Down the River (2004), a series of sketches (all completed between 1999 and 2000), and a larger-than-life tiger skin carpet made entirely of cigarettes, 1st Class (1999–2011). The project originates from a residency Xu undertook at Duke University in 2000, where he took interest in the history of the Duke family, who made much of their fortune manufacturing and marketing cigarettes in the late 19th century. During this residency, Xu learned about all aspects of tobacco production, from historical to contemporary, and began this series of works made of and about the tobacco trade. The artist took a particular interest in the introduction of American tobacco businesses in China in the late 19th century, and their lasting effect on his home country, both socially and economically.
The Allure of Matter is organized by Wu Hung, Adjunct Curator at the Smart Museum of Art and Harrie A. Vanderstappen Distinguished Service Professor of Art History at the University of Chicago, with Orianna Cacchione, Curator of Global Contemporary Art, Smart Museum of Art; the presentation at LACMA is co-curated by Stephen Little, Florence & Harry Sloan Curator of Chinese Art and Head of Chinese, Korean, and South and Southeast Asian Art Departments and Susanna Ferrell, Curatorial Assistant, Chinese and Korean Art. After premiering at LACMA, the exhibition will travel to exhibition co-organizers the Smart Museum of Art at the University of Chicago and Wrightwood 659, Chicago, Illinois (February 4–May 3, 2020); the Seattle Art Museum, Washington (June 25–September 13, 2020); and the Peabody Essex Museum, Salem, Massachusetts (November 14, 2020–February 21, 2021).
Xu Bing: Art for the People
Art for the People
Book from the Sky
Square Word Calligraphy
Square Word Calligraphy Classroom
Square Word Calligraphy Classroom
Book from the Ground Pop-up
Background Story- The Shangfang Temple
Background Story- The Shangfang Temple
Phoenix
Duration: February 15, 2019 — May 5, 2019
Location: Center del Carme, Valencia, Spain
Exhibited Works: Art for the People, Book from the Sky, Book from the Ground, Square Word Calligraphy, Background Story, The Character of Characters, and Phoenix
This exhibition showcases a selection of Xu Bing's most important works including Art for the People, Book from the Sky, Book from the Ground, Square Word Calligraphy, Background Story, The Character of Characters.. Xu also wrote a new piece of Square Word Calligraphy of an ancient Valencian poem, "El bon poble". As curator Marta Millet Moreno states, "Xu's interest in language and texts originates from his personal background and he transports these experiences to his art, where traditional art and conceptual art, Eastern and Western cultures, are intrinsically connected."